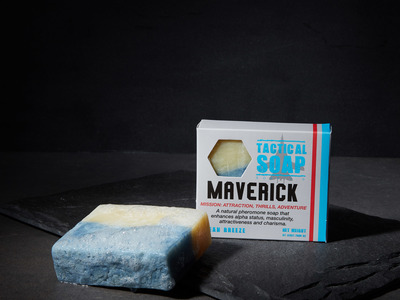 Grondyke Soap Company
Maverick Ocean Breeze Soap
Maverick Ocean Breeze Pheromone Soap is a lightly scented bar of all-natural soap infused with a proprietary bio-identical pheromone formula designed in tandem by a clinical psychologist and a pheromone expert. With Androstenone at the base, this targeted pheromone fusion works on a chemical level to attract those around you and create a positive reaction to your presence.This formula is named Maverick after the famously dangerous waves, and appropriately finished with an enticing Ocean Breeze fragrance that the ladies love. Maverick is a must-have for when the situation calls for a hero.
Product number: 8
Average Rating:
4.5
Votes:
1
Reviews:
5
Price: $
20.00 USD
Condition:
new