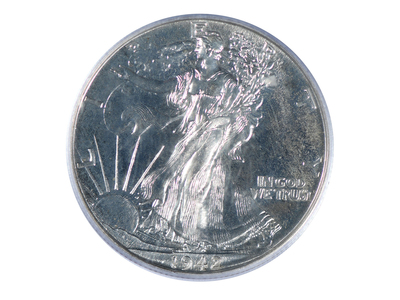 Olevian Numismatic Rarities
1942 Walking Liberty Half Dollar PCGS Certified PR65
The Walking Liberty Half Dollar is an enduring classic engraved by Adolph A. Weinman, the designer of the Mercury dime. This graceful coin features Lady Liberty adorned in an American Flag and striding towards the rising sun with her right arm outstretched, carrying branches of laurel and oak. The reverse features a powerful perched eagle with open wings and a branch of Mountain Pine, symbolic of America. The design was exceptionally detailed compared to previous coins, which lead to persistent problems with sharpness of strike and production quality— accelerating its replacement by the Franklin half dollar in 1948. The lasting beauty of this unique design was immortalized in 1986 when the U.S. Mint chose to adopt the Walking Liberty obverse for the American Silver Eagle bullion coin, which has become one of the most widely distributed silver bullion coins in the world.Walking Liberty half dollars were stuck for collectors in Proof versions for only 7 years, from 1936 to 1942. Proof production was halted suddenly in 1942 due to World War II and was not resumed before the Walking Liberty series was discontinued in 1947. Consequently, the 1942 proof edition offered here with a deeply mirrored finish is from the final year of production. You will receive the unique coin shown in the photos housed in plush-lined box with a certificate of authenticity.The condition of a coin is officially graded on a 70-point scale according to standards set forth by the American Numismatic Association. Grades under 60 represent circulated grades, while grades from 60 through 70 represent uncirculated, or "mint-state" grades. Very few, if any, older coins are known to exist in perfect MS70 grade. The coin offered for sale in this listing has been certified by one or more leading certification services so you can be confident in its authenticity and stated condition.
Product number: 209617
Average Rating:
4.5
Votes:
1
Reviews:
5
Price: $
450.00 USD
Condition:
new