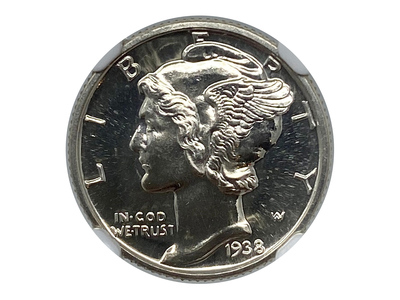 Olevian Numismatic Rarities
1938 Mercury Dime NGC & CAC Certified PF67
Properly known as the "Winged Liberty" dime in the Mint's official description, the popular Mercury Dime features a stunning example of a youthful Lady Liberty on the obverse wearing a winged Phrygian cap to symbolize freedom of thought. However, this was publicly confused almost immediately after its release in October of 1916 with a likeness of the Roman God Mercury, and thus this coin's enduring colloquial name was born. The reverse features the fasces carried by Roman magisterial lictors and symbolizes power and justice, as well as strength in numbers, and is accompanied by an olive branch of peace. The Mercury dime spanned an era that witnessed two World Wars, the Roaring Twenties, the Great Depression, and the entirety of Prohibition. It continues to be one of the most beloved coins in American history, more than 70 years after its last mintage in 1947. This Great Depression-era 1938 Proof-67 (out of 70) specimen has brilliant white surfaces and is amongst the finest known of its type. You will receive the unique coin shown in the photos housed in a plush-lined box with a certificate of authenticity.
Product number: 206735
Average Rating:
4.5
Votes:
1
Reviews:
5
Price: $
500.00 USD
Condition:
new