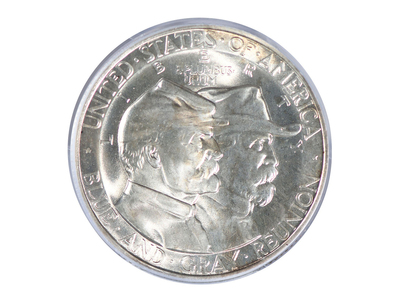 Olevian Numismatic Rarities
1936 Gettysburg Silver Commemorative Half Dollar PCGS Certified MS65
From 1892 through 1954, the U.S. Mint produced special commemorative coins for 53 different events, occasions, and individuals. This resulted in the production of over 180 silver and gold commemorative coins during that time period. Offered here is a Gettysburg Silver Commemorative Half Dollar commemorating the 75th anniversary of the Battle of Gettysburg, the bloodiest battle of the Civil War and considered by some historians to be the war's turning point. Although the anniversary would occur in 1938, this coin was produced early in preparation for the anniversary and is dated 1936. The obverse features two Civil War soldiers facing right, with the inscription BLUE AND GRAY RENUION below. The reverse depicts fasces (a bundle of sticks bound around an axe) flanked by shields of the Union and Confederacy and supported by branches of oak and laurel. Today, these coins are very popular with collectors and military history buffs alike. This gem uncirculated coin is certified in an original "green label" PCGS holder from the mid 1990's, which is considered collectible in own right to some numismatists! You will receive the unique coin shown in the photos housed in plush-lined box with a certificate of authenticity.The condition of a coin is officially graded on a 70-point scale according to standards set forth by the American Numismatic Association. Grades under 60 represent circulated grades, while grades from 60 through 70 represent uncirculated, or "mint-state" grades. Very few, if any, older coins are known to exist in perfect MS70 grade. The coin offered for sale in this listing has been certified by one or more leading certification services so you can be confident in its authenticity and stated condition.
Product number: 200448
Average Rating:
4.5
Votes:
1
Reviews:
5
Price: $
860.00 USD
Condition:
new