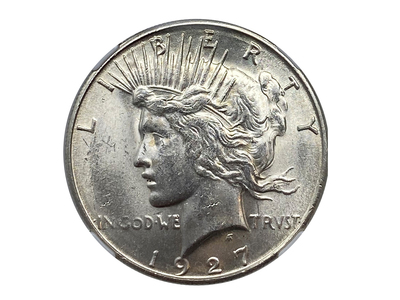 Olevian Numismatic Rarities
1927-S Peace Dollar NGC Certified MS62
The Peace dollar is often considered the most beautiful silver dollar ever minted by the United States. Following World War I, there was widespread sentiment to issue a coin to commemorate the restoration of peace. At the same, the U.S. Mint was required by the Pittman Act of 1918 to replace over 270 million silver dollars that had been melted. The federal Commission of Fine Arts held a competition and invited nine medalists to submit designs for the new dollar, including famed artists Victor D. Brenner, Hermon A. MacNeil, and Adolph A. Weinman, who had already designed other circulating coins. The relatively inexperienced winner, however, was Anthony de Francisci—an Italian immigrant who modeled a depiction of Liberty after his young wife Teresa. On this stunning coin, Liberty wears a radiant crown like that worn by the Statue of Liberty, symbolizing the powers associated with the sun. The reverse features a resting eagle clutching an olive branch of peace and looking towards the sun's rays. The word PEACE appears on a rock below the eagle, making the Peace dollar the only circulating coin in U.S. history to ever to bear that motto. Production continued until the requirements of the Pittman Act were satisfied in 1928. No dollars were minted from 1929-1933, as demand was low during the Great Depression. Limited production resumed in 1934 and 1935 for the redemption of paper silver certificates. The Peace dollar turned out to be the last true silver dollar ever minted for circulation in the United States. Sadly, its timely end came not 4 years before World War II and the end of world peace. The 1927-S Peace dollar offered here is a lustrous mint-state example of this infamous coin. You will receive the unique coin shown in the photos housed in a plush-lined box with a certificate of authenticity.
Product number: 204924
Average Rating:
4.5
Votes:
1
Reviews:
5
Price: $
370.00 USD
Condition:
new