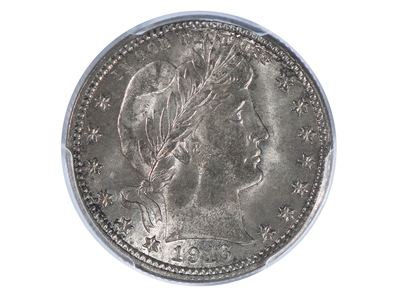 Olevian Numismatic Rarities
1916-D Barber Quarter PCGS Certified MS64
By 1891, the public had grown weary of the Seated Liberty coinage that had clinked in their pockets for over 50 years. Consequently, U.S. Mint director Leech instructed Chief Engraver Charles E. Barber to prepare designs for the coins that now bear his name. The result was a new dime, quarter, and half dollar rendered in a distinctly neoclassical Roman design that drew influence from contemporary French coinage circulating in Europe. The Barber obverse features Liberty, facing right, wearing an olive branch crown termed a pileus, as well as a headband inscribed with LIBERTY. The Barber quarter and half dollar reverse designs depict a heraldic eagle with shield, modeled after the Great Seal of the United States. It holds a scroll in its beak inscribed with E PLURIBUS UNUM as well an olive branch and arrows in its talons. Above the eagle are 13 stars, the name of the country, and the denomination. This design is more elaborate than the Barber dime, which bears a simple wreath on the Reverse. Barber coins were produced from 1892 through the middle of the first World War in 1916, except for the half dollar, which ended one year earlier. Offered here is a high-quality mint-state Barber quarter with sharp strike and gun-metal grey toning. You will receive the unique coin shown in the photos housed in a plush-lined box with a certificate of authenticity. The condition of a coin is officially graded on a 70-point scale according to standards set forth by the American Numismatic Association. Grades under 60 represent circulated grades, while grades from 60 through 70 represent uncirculated, or "mint-state" grades. Very few, if any, older coins are known to exist in perfect MS70 grade. The coin offered for sale in this listing has been certified by one or more leading certification services so you can be confident in its authenticity and stated condition.
Product number: 194665
Average Rating:
4.5
Votes:
1
Reviews:
5
Price: $
440.00 USD
Condition:
new