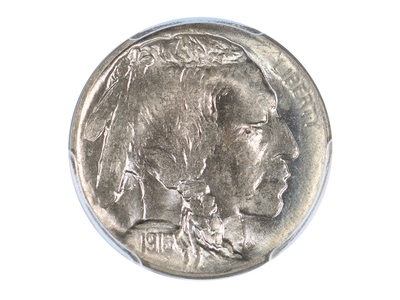 Olevian Numismatic Rarities
1913-D Buffalo Nickel, Type 1, PCGS & CAC Certified MS66
As part of a drive to beautify our nation's coinage, President Taft commissioned artist James Earle Fraser to redesign the 5-cent piece. The result was the Indian Head or "Buffalo" nickel—an American icon that became one of the most widely collected coins of the 20th century. The new nickel embodied the spirit of the Old West, with an obverse design featuring an authentic composite portrait of three Native American subjects and an American Bison on the reverse. Unlike most prior U.S. coins that possessed abundant and smooth background fields, the Buffalo nickel was boldly filled with design elements stretching to all edges and set on an irregular background in bas-relief.Production continued until the design was replaced by the Jefferson nickel in 1938. Today, the Buffalo nickel is vanishingly scarce in circulation but lives on strongly in the hearts and cabinets of coin collectors and enthusiasts. This exceptional, well-struck example from the first year of issue has beautiful satin luster with hints of pastel blue and red toning. You will receive the unique coin shown in the photos housed in a plush-lined box with a certificate of authenticity. The condition of a coin is officially graded on a 70-point scale according to standards set forth by the American Numismatic Association. Grades under 60 represent circulated grades, while grades from 60 through 70 represent uncirculated, or "mint-state" grades. Very few, if any, older coins are known to exist in perfect MS70 grade. The coin offered for sale in this listing has been certified by one or more leading certification services so you can be confident in its authenticity and stated condition.
Product number: 3191757
Average Rating:
4.5
Votes:
1
Reviews:
5
Price: $
750.00 USD
Condition:
new