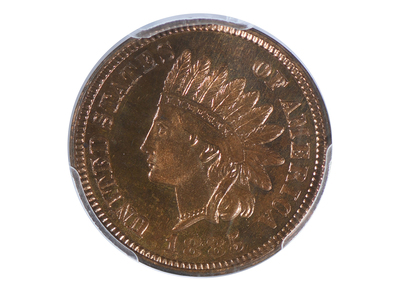 Olevian Numismatic Rarities
1885 Indian Head Cent PCGS Certified PR64RB
In the first half of the 18th century, one cent coins were large, clunky copper pieces nearly the size of a modern half dollar. By 1856, the cost of producing these copper coins rose so high that the U.S. mint was forced to significantly reduce the size of the one cent coin. On May 25th, 1857 the mint debuted a new small diameter cent, the Flying Eagle cent, which was the same size as our modern-day Lincoln cent. However, due to difficulties in production and issues with strike quality, this new cent was quickly abandoned and replaced by the Indian Head cent, which was minted through 1909. Initially, the coin was produced in a copper-nickel alloy before changing to bronze composition. The obverse of the Indian Head cent features Lady Liberty wearing a Native American war bonnet— regarded by the public at the time as a decidedly unusual headdress for a female figure of otherwise neoclassical Greek form. The reverse originally featured an olive wreath, which was later changed to a wreath of oak and other leaves with a shield at the apex. Indian cents remained in circulation through the 1940s until increasing value and interest among coin collectors rendered them scarce by 1950. The 1885 Indian Cent minted during the Gilded Age and featured here is a gorgeous proof example with exceptional color and mirrored surfaces. You will receive the unique coin shown in the photos housed in a plush-lined box with a certificate of authenticity. The condition of a coin is officially graded on a 70-point scale according to standards set forth by the American Numismatic Association. Grades under 60 represent circulated grades, while grades from 60 through 70 represent uncirculated, or "mint-state" grades. Very few, if any, older coins are known to exist in perfect MS70 grade. The coin offered for sale in this listing has been certified by one or more leading certification services so you can be confident in its authenticity and stated condition.
Product number: 196051
Average Rating:
4.5
Votes:
1
Reviews:
5
Price: $
500.00 USD
Condition:
new