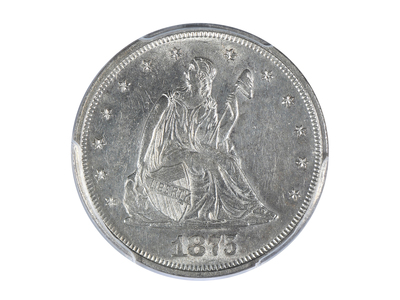 Olevian Numismatic Rarities
1875 Seated Liberty Twenty Cent Piece PCGS Certified AU58
In the words of numismatist Mark Benvenuto, the twenty-cent piece was a "chapter of U.S. coinage history that closed almost before it began." Indeed, this short-lived series was minted for only 4 years, from 1875 to 1878. Legislation for this unusual denomination was introduced by Nevada senator John P. Jones, who cited a lack of small change out West as the reason for the proposed coin. The bill was endorsed by Mint Director Henry Linderman and signed into law by President Grant in March of 1875. Chief Engraver William Barber adapted the Seated Liberty design that was already in use on most silver coinage, including the half dime, dime, quarter, half dollar, and dollar denominations. The obverse features Lady Liberty seated upon a rock, holding a liberty pole and cap symbolic of freedom in her left arm, and a shield in her right to defend it. The reverse design features an American Bald Eagle with outstretched wings holding an olive branch and bundle of arrows in its talons. Due to its similar size to the quarter and virtually identical obverse design, confusion with the quarter was widespread. The public's enormous dislike for the coin lead to the introduction of a bill repealing the denomination only one year later, though it was not passed until May of 1878. Today, the twenty-cent piece is of much greater interest to collectors than to the public when it was first issued. The 1875 Seated Liberty twenty-cent piece offered here is an excellent and affordable lightly circulated example of the inaugural year of issue from the Philadelphia Mint. You will receive the unique coin shown in the photos housed in plush-lined box with a certificate of authenticity.
Product number: 204002
Average Rating:
4.5
Votes:
1
Reviews:
5
Price: $
1120.00 USD
Condition:
new