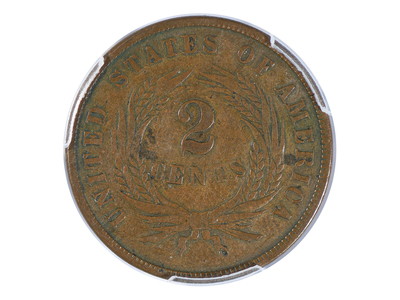 Olevian Numismatic Rarities
1864 Two Cent Piece, Small Motto, PCGS Certified VF25
The two-cent piece was an unusual and short-lived coin first struck during the Civil War in 1864. With a large shield, arrows, and wreath dominating the obverse design, art historian Cornelius Vermeule considered the 2-cent piece the most Gothic and the most expressive of the Civil War of American coins. This coin is especially notable, as it is the first to bear the motto IN GOD WE TRUST. The 2-cent piece was initially quite popular due to the lack of abundant metallic coinage in circulation secondary to public hoarding. However, demand dropped rapidly, and the coin was considered superfluous after the introduction of the nickel 5-cent piece in 1866. The 1864 Civil War-era Two Cent Piece offered here from the inaugural year of mintage represents the original and more scarce "small motto" IN GOD WE TRUST variety. In late 1864, the size of the lettering in this motto was increased, giving rise to the more common "large motto" variety that was employed through the end of the series in 1873. This circulated 2-cent piece with bold details and original motto is essentially the strongest embodiment of the Civil War that you can get in American coinage. You will receive the unique coin shown in the photos housed in a plush-lined box with a certificate of authenticity. The condition of a coin is officially graded on a 70-point scale according to standards set forth by the American Numismatic Association. Grades under 60 represent circulated grades, while grades from 60 through 70 represent uncirculated, or "mint-state" grades. Very few, if any, older coins are known to exist in perfect MS70 grade. The coin offered for sale in this listing has been certified by one or more leading certification services so you can be confident in its authenticity and stated condition.
Product number: 186257
Average Rating:
4.5
Votes:
1
Reviews:
5
Price: $
550.00 USD
Condition:
new