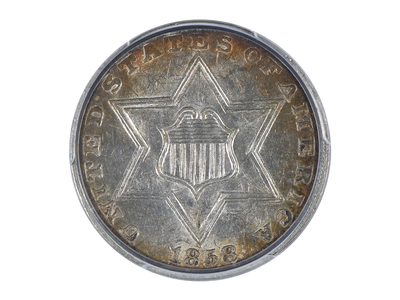 Olevian Numismatic Rarities
1858 Silver Three Cent Piece PCGS Certified MS62
The three-cent coin was proposed in 1851 in response to the growing need for a small-denomination, easy-to handle coin. Postage stamp rates had recently decreased from 5 cents to 3 cents, making a 3-cent coin seem like a practical solution. Initially composed of 75% silver and 25% copper, these coins were the lightest-weight coins ever minted by the United States and were commonly referred to as "fish scales." The silver content was later increased to 90%, with yet a further reduction in the coin's already diminutive size.Designed by Chief Engraver James B. Longacre, the obverse of the coin features a shield on a 6-pointed star and the reverse shows an ornamental C surrounding the roman numeral III, for 3-cents. Widespread hoarding of silver coins during the Civil War forced the Mint to issue a new 3-cent piece made of nickel in 1865. This was produced simultaneously with the silver 3-cent piece, until the latter was discontinued in 1873. By 1883, the postage stamp rates had fallen to only 2 cents, making the 3-cent coin less popular. The denomination was ultimately discontinued entirely in 1889, rending these coins interesting but obsolete relics of American history. Offered here is an affordable mint-state example of a silver 3-cent piece minted in 1858. You will receive the unique coin shown in the photos housed in a plush-lined box with a certificate of authenticity.
Product number: 200559
Average Rating:
4.5
Votes:
1
Reviews:
5
Price: $
540.00 USD
Condition:
new