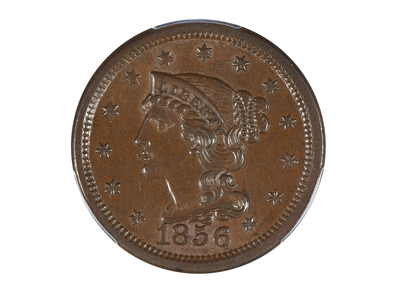 Olevian Numismatic Rarities
1856 Braided Hair Large Cent PCGS Certified MS62BN
When the U.S. Mint first began producing one cent coins in 1793, they were large, clunky pieces nearly the size of a modern half dollar and made from almost pure copper. With the purchasing power of roughly a quarter dollar by today's standards, these "large cents" were important players in American commerce throughout the first half of the 19th century. The design was modified several times over the years, eventually resulting in the Braided Hair variety minted from 1839 to 1857. Designed by Christian Gobrecht, the obverse features a classical depiction of Liberty with braids in her hair wearing a coronet. Thirteen stars surround the obverse symbolizing the original states. The reverse features a wreath encircling the denomination. By 1856, the cost of producing these large copper coins rose so high that the U.S. mint was forced to significantly reduce the size of the one cent coin. On May 25th, 1857 the mint debuted a new small diameter cent, the Flying Eagle cent, which was the same size as our modern-day Lincoln cent. The large cent, as well as the half-cent, was discontinued that year. The 1856 Braided Hair large cent offered here is a quality mint-state example with chocolate brown coloration from the penultimate year of production. You will receive the unique coin shown in the photos housed in a plush-lined box with a certificate of authenticity.
Product number: 206780
Average Rating:
4.5
Votes:
1
Reviews:
5
Price: $
340.00 USD
Condition:
new