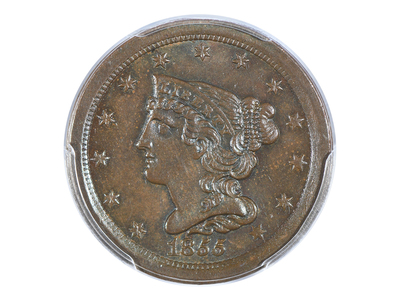 Olevian Numismatic Rarities
1855 Braided Hair Half Cent PCGS Certified MS64BN
The half cent was the smallest denomination coin ever minted by the United States. An astonishingly low value by today's standards, this denomination was introduced in 1793 and had more purchasing power than a quarter does in 2020. Half cents eventually fell out of favor due to inflation and the rising price of copper, however, and were later discontinued in 1857. The 1855 Braided Hair half cent offered here is a stunning mint-state specimen with a pleasant brown luster, sharp strike, and is one of the last examples ever minted. The obverse features Liberty, facing left, with headdress and braids in her hair. The reverse shows a wreath encircling the denomination.
Product number: 201233
Average Rating:
4.5
Votes:
1
Reviews:
5
Price: $
760.00 USD
Condition:
new