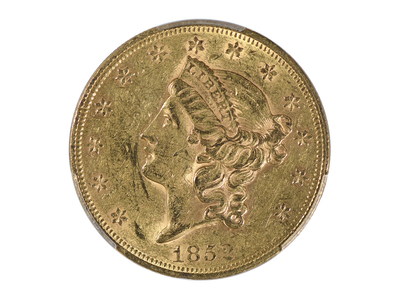 Olevian Numismatic Rarities
1852 Liberty Head $20 Gold Piece, Type 1, PCGS & CAC Certified AU55
The discovery of gold in 1848 at Sutter's Mill in California persuaded Congress to expand its use in coin production. In March of 1849, legislation authorized the mintage of two new denominations of gold coins, the one dollar and twenty-dollar gold pieces, which became the smallest and largest regular production gold coins ever made in terms of both value and size. The government needed a larger coin than the existing $10 piece to accommodate the massive quantities of gold being mined in California. The resulting $20 gold piece, commonly referred to as the "double eagle," is an impressive coin. Containing nearly one full ounce of gold, it is a pleasure to hold these hefty pieces in your hand. The double eagle's purchasing power was enormous and amounted to over a month of ordinary wages in 1850. Many people could not even afford to own one. The obverse features a left-facing Liberty wearing a coronet, or small crown, encircled by 13 stars representing the original states. The reverse shows a heraldic eagle with a shield on its chest holding a double ribbon inscribed E PLURIBUS UNUM, as well as an olive branch and arrows in its talons. Above the eagle is a halo of 13 stars and an arc of rays. Offered here is a lightly circulated example of the Liberty Head $20 Gold Piece produced at the Philadelphia Mint in 1852. This coin is of the original Type 1 variety, which lacks the IN GOD WE TRUST motto on the reverse. Further, the shield has straight sides, rather than curved ones that would appear in later varieties. You will receive the unique coin shown in the photos housed in a luxurious matte black wood box lined in velvet with a certificate of authenticity.The condition of a coin is officially graded on a 70-point scale according to standards set forth by the American Numismatic Association. Grades under 60 represent circulated grades, while grades from 60 through 70 represent uncirculated, or "mint-state" grades. Very few, if any, older coins are known to exist in perfect MS70 grade. The coin offered for sale in this listing has been certified by one or more leading certification services so you can be confident in its authenticity and stated condition.
Product number: 200930
Average Rating:
4.5
Votes:
1
Reviews:
5
Price: $
3690.00 USD
Condition:
new