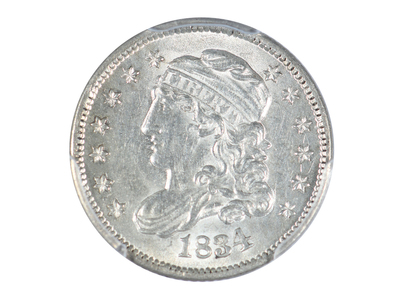 Olevian Numismatic Rarities
1834 Capped Bust Half Dime PCGS Certified AU58
The Capped Bust design appeared on United States half dimes, dimes, quarters, and half dollars from 1807 to 1839. It was first conceived by John Reich, a German immigrant who accepted the position of U.S. Mint Assistant Engraver at the recommendation of Thomas Jefferson in 1807. His first task was to redesign the circulating coinage of Chief Engraver Robert Scot. The obverse of the Capped Bust coins features Liberty, facing left, wearing a headband with the inscription LIBERTY, as well as a Phrygian Cap. The latter was originally worn by emancipated slaves of ancient Rome and was a popular symbol of freedom during the American Revolutionary War. Thirteen stars surround the bust, representing the original states in the Union. The reverse features an American Bald Eagle with outstretched wings holding an olive branch and bundle of arrows in its talons. A scroll above the eagle includes the motto E PLURIBUS UNUM. The denomination appears at the bottom, which had not been consistently employed on earlier designs of U.S. coinage.William Kneass later modified Reich's design in 1829. At a time when all coins valued above one cent were minted in silver or gold, the U.S. 5-cent coin was commonly referred to as the half dime, since "nickels" had not yet become a reality. Capped Bust half dimes were first struck on the morning of July 4th, 1829 to be included in the cornerstone time capsule of the new Philadelphia Mint building and for distribution as inexpensive souvenirs. These popular and practical coins remained in production for many years until 1873, albeit with numerous design modifications.This 1834 Capped Bust Half Dime in AU58 condition is an attractive and affordable example of this popular American coin. You will receive the unique coin shown in the photos housed in a plush-lined box with a certificate of authenticity. The condition of a coin is officially graded on a 70-point scale according to standards set forth by the American Numismatic Association. Grades under 60 represent circulated grades, while grades from 60 through 70 represent uncirculated, or "mint-state" grades. Very few, if any, older coins are known to exist in perfect MS70 grade. The coin offered for sale in this listing has been certified by one or more leading certification services so you can be confident in its authenticity and stated condition.
Product number: 202714
Average Rating:
4.5
Votes:
1
Reviews:
5
Price: $
510.00 USD
Condition:
new