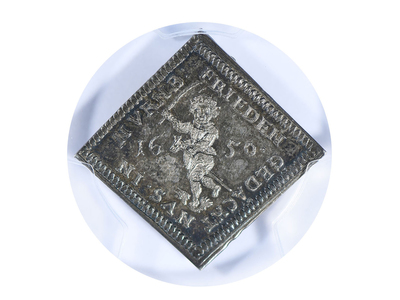 Olevian Numismatic Rarities
1650 RARE German Nurnberg 1/8th Thaler PCGS Certified MS65
From our perspective, this is arguably the best example of this rare and highly unusual square German coin known to exist. In Mint State 65 (out of 70) condition, the coin's surfaces are nearly as perfect as the day it was minted 370 years ago. It was produced as a commemorative issue in the name of Ferdinand III to celebrate the Peace of Westphalia, which brought an end to the Thirty Years' War in 1648. The Peace additionally resolved that each ruler had the right to stipulate the official religion in his territory, whether Catholicism or Protestantism. This specimen has exceptional luster and subtle hints of attractive dark purple and blue toning throughout. Only 4 specimens have ever been certified by PCGS: 2 in MS65 (including this coin), 1 MS64+, and 1 MS62. You will receive the unique coin shown in the photos housed in a luxurious matte black wood box lined in velvet.The condition of a coin is officially graded on a 70-point scale according to standards set forth by the American Numismatic Association. Grades under 60 represent circulated grades, while grades from 60 through 70 represent uncirculated, or "mint-state" grades. Very few, if any, older coins are known to exist in perfect MS70 grade. The coin offered for sale in this listing has been certified by one or more leading certification services so you can be confident in its authenticity and stated condition.
Product number: 207629
Average Rating:
4.5
Votes:
1
Reviews:
5
Price: $
1395.00 USD
Condition:
new